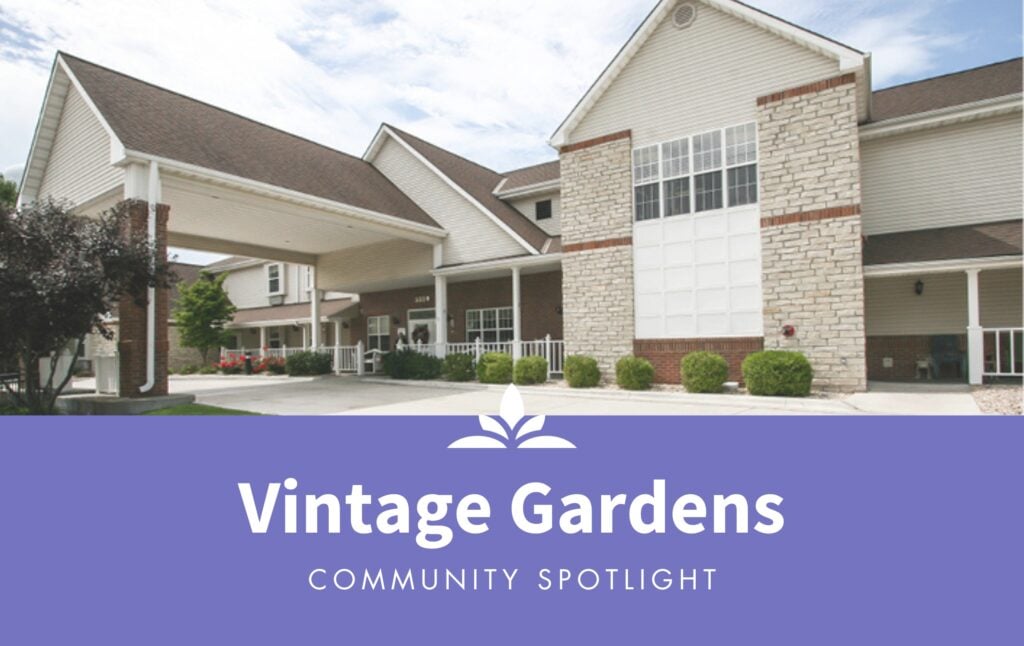 Location: St. Joseph, Missouri
Services: Independent living, assisted living, memory care, temporary stay
Fun fact: Since Vintage Gardens is located on the edge of town, residents frequently spot a variety of wildlife species on the grounds, including turtles, deer and even the occasional bobcat!
What makes our senior living community special?
On the grounds of Vintage Gardens, you'll find a unique setup featuring 22 villas for independent living residents (dubbed The Villas at Vintage Oaks), two assisted living buildings and a 10-bed wing for Magnolia Trails memory care.
"We have that country feel with all of the convenience of being in the city," shares Amy Tullis, Vintage Gardens executive director. "We have the best residents ever! They share so many stories with us and really become part of our family."
Residents at Vintage Gardens love that they are able to develop personal relationships with the team over time. Vintage Gardens even has a few team members who have worked at the community since it opened over 22 years ago. Many members of the leadership team have worked at the community for close to eight years. In addition to building ongoing relationships with the team, residents can expect the best care possible.
"We have multiple caregiver award winners from The Compassion Point on our team, including our director of nursing, who has received the honor multiple times," continued Tullis. "The relationships our residents build with our team members is truly something special to be part of."
Learn more about a community near you
Vintage Gardens services and amenities
To support residents in getting the care they need close to home, Vintage Gardens has partnered with Freudenthal Home-Based Healthcare for on-site services. Vintage Gardens also offers in-house podiatry, nail care and therapy services, like physical, occupational and speech therapy through Aegis Therapies.
When it comes to dining, the culinary team takes resident preferences seriously, developing menus based on regular feedback from residents.
The community dietary director has been with Vintage Gardens since opening day, and loves to create themed meals for holidays and fun events like National Hot Dog Day. She is more than willing to whip up resident-requested meals and is always thinking of unique ways to make meal time special for the entire community.
"Oven-roasted brisket, mashed potatoes and gravy, country green beans and a homemade cinnamon roll is a beloved classic here," Tullis said. "We have a cowbell in each dining room for the residents to ring when they really enjoy a meal. This combination always gets the most rings!"
More on-site offerings at Vintage Gardens include:
On-site care

24/7 staffing
Medication management
Incontinence care
Dressing, grooming and showering assistance
Meal reminders

Support with everyday tasks

Transportation to medical appointments
Hair salon and barber
Housekeeping
Newspaper delivery
Entertainment and activities for seniors
No day is quite the same as the last one at Vintage Gardens. Resident entertainment is supported by the community activity director, who has also been with Vintage Gardens since opening day and knows the residents well. Frequent offerings include themed events like a history of St. Joseph bus tour or treasure hunting around the building.
"Tailgating is a highlight for our residents because they love football," Tullis said. "No one dares to touch the TV in the commons when the Kansas City Chiefs are playing!"
Other activities offered at Vintage Gardens include:
Arts and crafts, like birdhouse building, flower arranging and painting
Exercise classes, such as cardio drumming, yoga and walking club
Cards, checkers and other games
Horseshoes and cornhole
Live entertainers, bingo and trivia
Religious activities in the chapel, including weekly Bible study and Sunday services
How do I find the best senior living community near me in St. Joseph?
Our team of trusted advisors can help you determine what level of care would be best for you or a loved one. First, we will meet with you to learn more about you and your unique needs. If we offer the type of care you need, we can then make a recommendation about the appropriate level of care and help set up tours as well.
If you're a senior or caregiver looking for independent living, assisted living or memory care services for your loved one in the greater Kansas City area, consider touring Vintage Gardens. Schedule a tour here!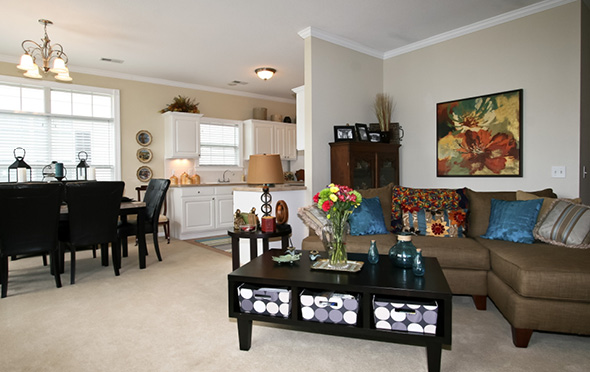 About our Community Spotlight senior living blog series
All of our Sonida Senior Living communities across the country have one goal in mind: providing quality, affordable senior housing and outstanding services while improving the quality of life of the seniors we serve. Our Community Spotlight blog series is here to help you get to know our communities better!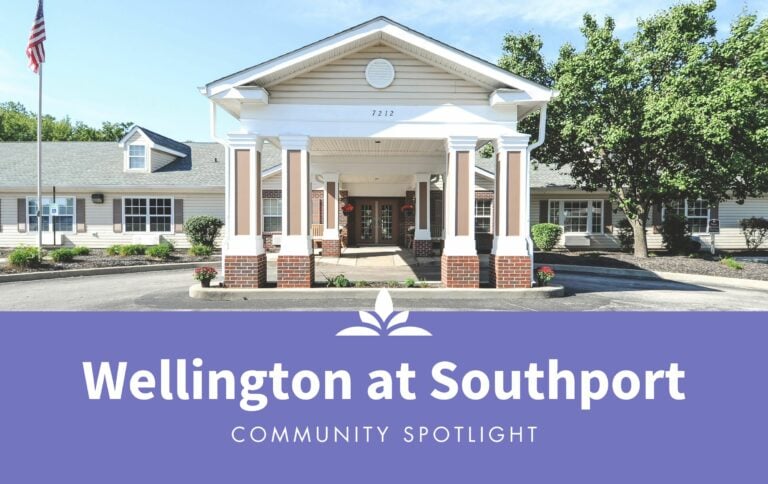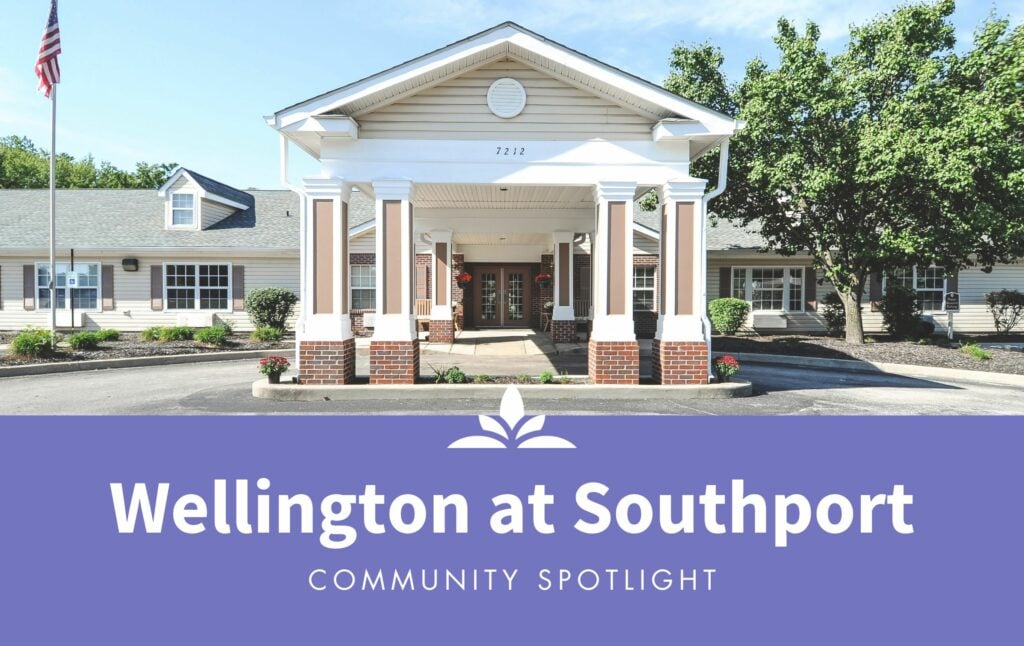 Senior Living Community Spotlight: The Wellington at Southport
The Wellington is a tight-knit and family-oriented environment, making it easy for both families and residents to feel at home from the moment they walk through the doors.
Read blog
Find a community
If you're a senior or caregiver looking for independent living, assisted living or memory care services for you or your loved one, contact us to schedule a tour or request information about a community near you.