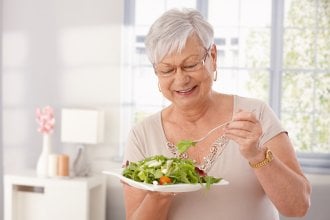 You've heard it all before: Loved ones constantly reminding, stressing and even insisting that you should be eating healthier.  And, until moving into a Sonida Senior Living community, you might have chosen to selectively tune out those messages and instead go for the foods you most craved at the moment.
Residents at our communities have plenty of food options available at every meal — including tasty desserts and treats baked onsite daily. But, our talented culinary team believes in that old motto of "you are what you eat."  Proper diets reduce the risks of heart disease, stroke, high blood pressure, diabetes, cancer and more, meaning residents could have a longer, happier life in our Sonida Senior Living family. That's why, when preparing breakfasts, lunches and dinners, staff members choose only the best selections of meat and freshest produce to ensure  well-balanced meals that are not only big on taste but also — yes, you guessed it — nutritious.
According to HelpGuide.org and the National Institute of Aging, older adults can feel better immediately and stay healthy well into the future by fostering a nutritious lifestyle and taking in the right amount of calories per day by watching serving sizes. The more active a senior is, the more calories per day are needed. The institute suggests 1,600 to 2,000 calories per day for women and 2,000 to 2,800 for men.
Those calories come from five main categories that, when balanced correctly, can provide a higher quality of life and enhanced independence, according to HealthGuide.org. The pyramid includes fruits, vegetables, calcium, grains and protein. Our Sonida Senior Living communities offer all of these "ingredients." 
HealthGuide.org makes the following suggestions for each category:
Fruits: 1.5 to 2 servings a day, more focused on whole fruits rather than juices. For a snack, rather than grabbing a cookie or baked treat, why not have some berries or melon? Our Sonida Senior Living communities put an emphasis on buying local products when quality is available. So if you know of a farmers' market or produce stand nearby, let one of our staff members know so they can check it out.
Vegetables: 2 to 2.5 cups a day, with leafy greens and orange and yellow veggies such as carrots and squash. Many of our communities offer fresh salad bars — a perfect spot to stop and make a fresh salad with spinach leaves or antioxidant-rich dark, leafy greens.
Calcium: 1,200 milligrams a day. For breakfast, have a glass of milk with your coffee and try some yogurt for nice mid-day snack. Or maybe add a slice of cheese to your usual burger to spice things up.
Grains: 6 to 7 ounces a day (1 ounce is about one slice of bread). Lucky for you, our breads are baked onsite daily, so it's not only fresh but jam-packed with the grains you need to stay healthy.
Protein: 0.5 grams per pound of body weight (or simply divide your weight by half). Fish, beans, peas, nuts, eggs, milk and cheese are good sources.
Don't forget that wholesome meals will give you more energy and, according to the National Institute of Aging, help you look better. So, eating healthy will not only make you feel happier inside and out, it also will appease your loved ones. Happy eating!
Source – HelpGuide.org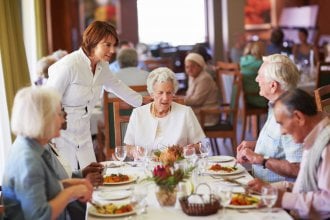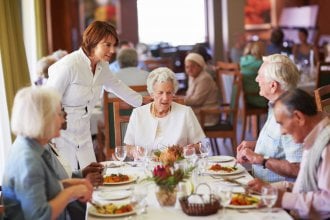 Bon Appétit! Here are Our Secret Ingredients For Creating a Perfect Senior Living Menu
Breakfast, lunch and dinner have become an experience that brings friends and family together over meals that meet or exceed seniors' desires and also satisfy nutritional requirements.
Read blog
Find a community
If you're a senior or caregiver looking for independent living, assisted living or memory care services for you or your loved one, contact us to schedule a tour or request information about a community near you.