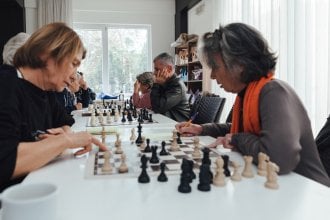 From children to senior citizens, everyone loves a board game. That's why many of our independent living, assisted living and memory care communities across the country offer activity centers or game rooms where residents can challenge their neighbors or visitors to a friendly competition.
Games may be very entertaining for seniors, their friends and their children and grandchildren, but they also have major health benefits such as relieving stress and combating memory loss and depression. A British Medical Journal study notes that the risk of dementia was 15 percent lower in board game players than in non-players. Board games can enhance memory formation and help exercise cognitive skills. A lot of games also tend to be low-stress and can be calming, helping lower blood pressure. In many instances, games require some coordination and hand dexterity, which can be important for aging adults.
There are plenty of games out there, and selecting the perfect one for you and your senior can be difficult. But we've narrowed it down to a few of the classics while adding in a few that are modern so you can be nostalgic and create new memories. Each game requires a different skill and offers various levels of entertainment and health benefit.
The classics
Chances are, you've played these games as a child because most have been around for a long time. The benefit of classic games is that they are well-known, often played and easily accessible. The learning curve tends to be non-existent, and a simple refresher course on rules is a lot easier than explaining a brand-new game.
Cards: A deck of cards provides an array of games to enjoy, from Go Fish to poker and everything in between. A standard deck offers 52 playing cards with four suites.
Scrabble: Scrabble is a great game that requires critical thinking and blends it with the entertainment of a word puzzle. Enjoy the clack of tiles as you pass on your vocabulary to your grandchildren — and learn theirs. This game is especially fun for seniors who enjoy crossword puzzles and word searches.
Chess and Checkers: Everyone has some experience with one or both of these games of wit. Chess and checkers are great games to play with the elderly. Both games are easy to learn and highlight creative problem-solving and strategy as fundamental portions of the game.
Monopoly: This timeless board game of fast deals and property trading is a classic for sure at 8 years old, no matter what pieces are included now. The game has undergone minimal changes in its lifespan, with the most recent one ousting the boot, wheelbarrow and thimble for a T-Rex, rubber ducky and penguin. Remember fighting over the Scottie, hat, car, cat and battleship?
Modern board games
Although classics can be fun, it's important to mix it up with something new. Board games have had a resurgence in the last decade, and a new collection is just waiting to be discovered. The good news is a majority of modern games feature rules similar to classic games while putting a fun new spin on them.
The most important thing to remember with any game is to have a good time. Have patience when teaching your senior loved one a new game.
**This blog post has been edited and reposted.
Sources: Six Wise, British Medical Journal, Help Guide
Learn more about a community near you
Other blogs you might be interested in reading
Smartphone apps and seniors: Here are several apps (available in the App Store or on Google Play now) that can be used on smartphones that will help seniors enhance their day-to-day lives.
VR can be an outlet for seniors to socialize and engage in activities they perhaps haven't been able to do in years due to the aging process. Check it out.
Similar to radio shows such as Gene Autry's Melody Ranch, The Jack Benny Program and Gang Busters that seniors may have listened to growing up, podcasts are today's form of audio entertainment. Here are a few to listen to.
Find a community
If you're a senior or caregiver looking for independent living, assisted living or memory care services for you or your loved one, contact us to schedule a tour or request information about a community near you.