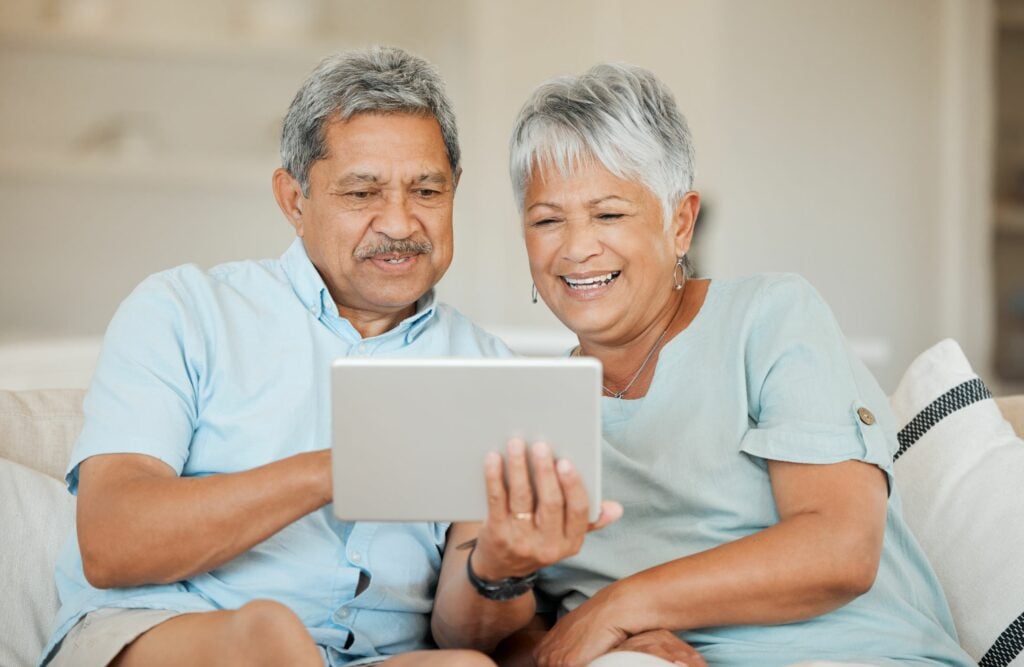 Social interaction is an important part of feeling connected, particularly in older age. Yet, it can be a challenge for seniors to get quality time with family and friends. That is one of the reasons video calling has become increasingly popular in recent years among seniors. While it can't replace in-person visits, connecting over video can help improve the connection between seniors and their loved ones.
During the COVID-19 pandemic, AARP found that seniors increasingly used technology this way. Before the pandemic, about half of seniors had never used video chat. By 2020, one in three seniors were using video chat weekly, and 70 percent of seniors said they had used the technology at least once.
A video call can help grandparents stay connected and build relationships with their grandchildren. It can help children of aging parents check in to make sure their parents are doing well and have what they need. And it can help seniors stay updated on what's going on in the busy lives of their children and friends across the world.
But which video call device or app should you choose? The best choice may depend on how simple you want the technology to be when you use it. The good news is that there are a lot of options, and many of them are free.
Easiest video call options for seniors
For many seniors, the easiest video call options will be the ones that use technology that is already familiar. For example, seniors who use an iPhone, iPad or iPod Touch may find it easier to use Apple's FaceTime app. Seniors who are already on Facebook may find it easier to use Facebook Messenger or Facebook Messenger Lite.
For seniors who are not very tech-savvy, it might be easier to use Amazon Echo Show, which is voice-activated. Or, drop-in calling options like CallGenie start calls automatically, which can be good for seniors who have dementia or other limitations.
Free video call applications
Understanding your options, and how simple they are to use, can help you find the best fit for a positive experience. Some apps are free if you already have a phone, tablet or computer and an internet connection.
Apple FaceTime
Apple FaceTime is a free video chat app that is built into Apple devices, such as an iPhone, iPad or iPod Touch. If you are already familiar with an Apple device, using FaceTime should come easily, especially after you make your first video call.
You can make a call by clicking the FaceTime app icon on your device, which is a white image of a video camera on a green background. You will need the person's phone number or email address if it is not already saved in your contacts. To start a new call, select "New FaceTime" and select the contact you want to call. You can also start using FaceTime during a phone call by tapping the icon during your call. You may need to be in a good cellular service area for FaceTime to work, or be connected to Wi-Fi. Depending on your device, you may only be able to use FaceTime with people who also have an Apple device.
Skype
Skype has a long history of video calls dating back to the early 2000s. Skype is a free software that is used by hundreds of millions of people. It comes with a live-captions feature that allows you to better understand what other call participants are saying.
You can download Skype and use it on your phone, tablet or computer, as long as your device has a camera and a microphone. And if you are using Skype on your phone, it should work just as well for Android as it does for iPhone. You can find and add contacts in Skype by searching for a person's name, Skype name, email address or phone number. Skype to Skype calls are free, but there is a cost to place calls to a phone number.
Facebook Messenger
Facebook Messenger allows you to make free video calls from Messenger, the standalone private messaging app owned by Facebook. To make a call, everyone on the call must first be using Messenger together in a chat. Then, you click the video icon in the top right corner of the chat box.
If you have an Android device, Facebook Messenger Lite is another good option. Messenger Lite is a slimmed-down version of Messenger that still allows for video calling. It has only the basic Messenger features, so it works better with slower internet connections. You can use the Messenger app on certain devices even if you don't have a Facebook account. Facebook also owns WhatsApp, which also allows for free video calling in a similar way as Messenger.
Zoom
Zoom is another popular video call platform. To get started, you create an account online and download the Zoom software. To use Zoom and host meetings, there are a few more steps than with FaceTime or Skype, so it's not quite as simple.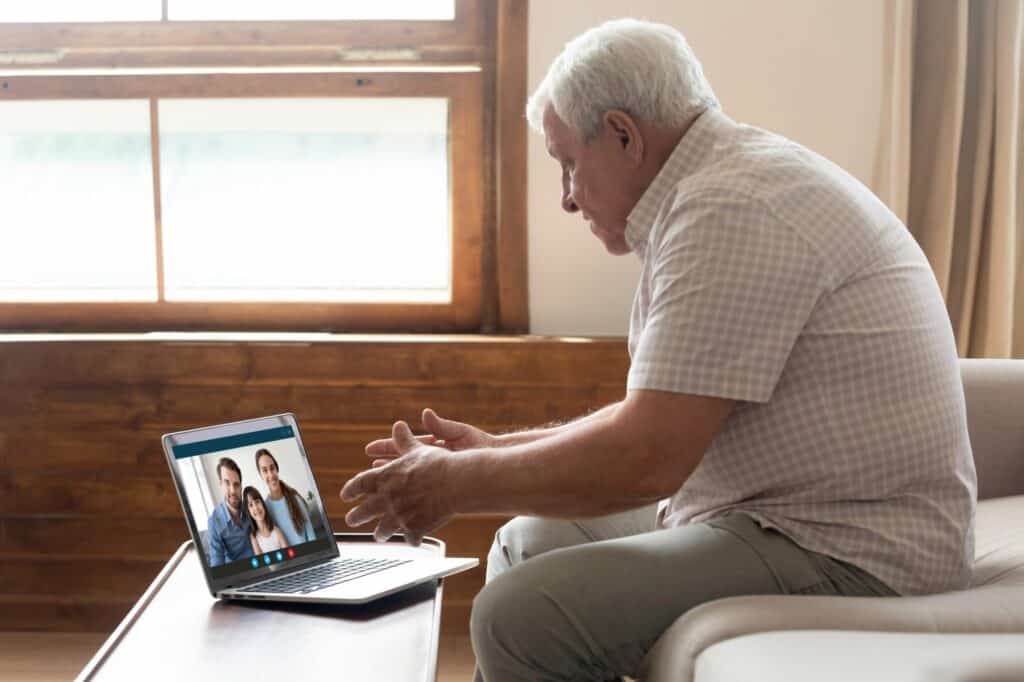 First, you need to schedule the meeting and invite your guests. You will choose from several security and video options when you schedule a meeting. Then, you need to be signed in and start your meeting when it's time. If you are not the one hosting the meeting and are only joining, it is much easier because you don't even need a Zoom account. To join a meeting, you simply click the meeting link that was shared with you, and enter a security passcode if needed. Free Zoom calls are limited to 40 minutes, but you can sign up for a paid license if you want to be able to host longer meetings.
Google Meet
Google Meet is another free video chat option that you can use if you have a Gmail account. Google Meet is one of the options in the pull-down menu of Google apps at the top right corner of your screen when you are signed into Gmail.
You click on "New Meeting," then "Start a Meeting." You can invite people to a Google Meet by entering their email addresses or sharing the meeting link that pops up when you start the meeting. You can also start a video call through a chat message on Google. Google Chat used to be called Google Hangouts.
Video call devices for older adults
Sometimes finding the best video call option for you means spending a little bit of money. Here are some video call devices that might make the experience easier, more convenient or more comfortable for seniors.
Tablets geared toward seniors
There are some tablets for video calling that are made with features specifically designed for seniors:
GrandPad is a great tablet for grandparents and other seniors who are not very familiar with technology. It is easy to use and comes with around-the-clock support with customer service agents. The GrandPad is a particularly good option for seniors with diminished eyesight, motor skills, hearing, or cognition.
Dragon Touch also makes tablets with senior-friendly features, such as the Dragon Touch Max10 Plus Tablet, which is easy to operate. Dragon Touch also has eye protection to make it easier to use for longer periods, like during a video call.
Meta Portal, which used to be called Facebook Portal, is a video call device that unfortunately has been discontinued. Ongoing support is still available, though, if you have a used Facebook Portal. These devices have been popular with seniors connecting with grandchildren because of their Story Time feature.
Amazon Echo Show
Amazon Echo Show is an Amazon device that includes Alexa voice assistance and has an HD screen for video calling. Once the Amazon Echo Show is set up, you can start a video call with a simple voice command. It works with voice calling apps like Zoom and Amazon Chime, although you have to pay to host video calls with Amazon Chime. You have to be a bit more tech-savvy to set up an Amazon Echo, or have help. Once it's set up, though, it's easy to use and has a lot to offer, including a "drop-in" call feature. Amazon Echo Show also works with Amazon's subscription service "Alexa Together," which helps family members check in on elderly loved ones. 
ViewClix Smart Frame
ViewClix Smart Frame is a device designed for seniors that allow for easy video calls. It is a good option for seniors who struggle with technology or have limitations that make it hard to make and answer calls. Once the ViewClix frame is set up and connected to the internet, it includes an auto-answer feature for drop-in calling. The device can be managed remotely by a family member, making it hassle-free technology for elderly loved ones.
CallGenie
CallGenie is a device that allows you to use your TV for Skype video calling. CallGenie was invented specifically for older people. Only calls from known contacts are answered, but they are answered automatically. This "drop-in" feature makes video calling very simple and straightforward. The feature is particularly helpful for seniors with Alzheimer's and dementia, or seniors with limited mobility.
If you're interested in a device but concerned about the cost, local assistance programs may be available for seniors with disabilities. You may even be able to borrow a device or purchase a used device, depending on where you live.
Other video calling options for seniors
Oscar Senior
Oscar Senior is a tablet application for seniors. It is a telecare tool for caregivers that converts a regular tablet into a senior-friendly device that is easier to navigate. Oscar allows for video calling, and even has an auto-answer option to allow family members better access to check in on their aging loved ones. Oscar Senior also includes other features, including reminders for medications. You can download it from the App Store or Google Play.
Virtual reality headsets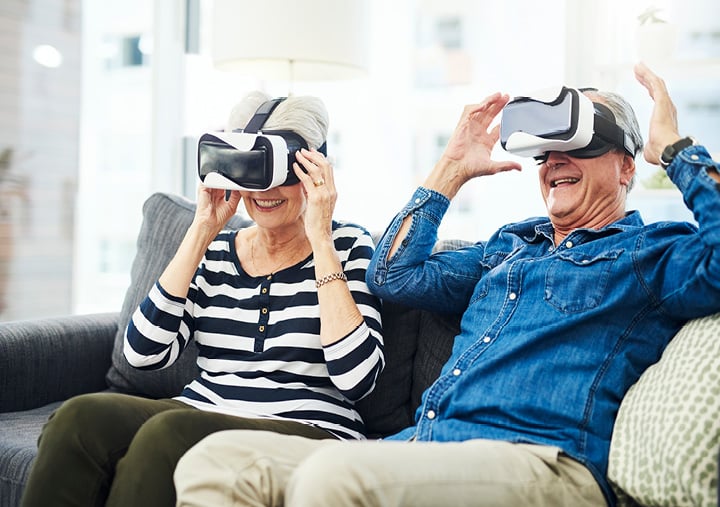 There are social virtual reality apps that are specifically designed to help bring families together. One such example is Alcove, a product of Meta, which was formerly known as Oculus. Venturing into the metaverse can help seniors fight loneliness and isolation in older age. It can also lend a sense of adventure and fun to virtual gatherings between family and friends. Special virtual reality headsets are needed for this type of next-level video call experience in the metaverse. 
Meaningful connections through senior living
While technology can help foster connection between seniors and their friends and family, there is no substitute for in-person care and connection. For seniors who don't get enough time and attention from friends and family, it may be time to consider senior living.
Senior living communities were created specifically to meet the social, emotional, and physical care needs of seniors. If you have tried video calling and it simply isn't enough, schedule a tour of a Sonida Senior Living community near you. Sonida Senior Living can help provide the support and tools needed for good health and independent living during the golden years.
Learn more about a community near you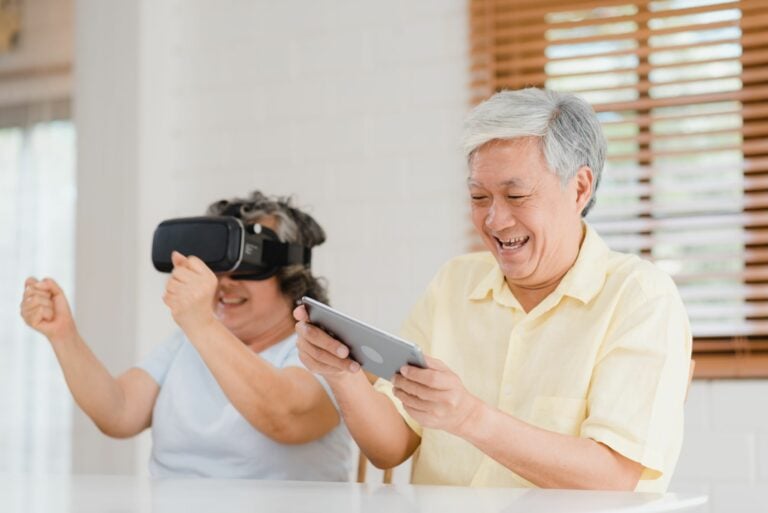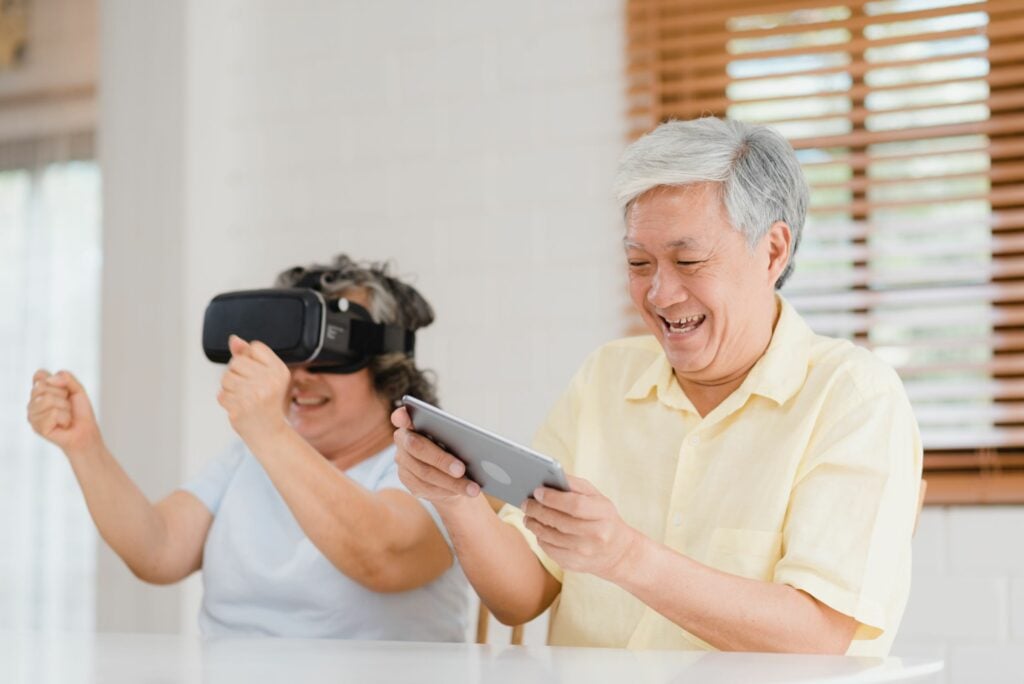 Best Smartphone and Video Games for Seniors
Seniors know their smartphones and the internet are a gateway to plenty of entertainment. Here are our top five genres of games for seniors.
Read blog
Find a community
If you're a senior or caregiver looking for independent living, assisted living or memory care services for you or your loved one, contact us to schedule a tour or request information about a community near you.