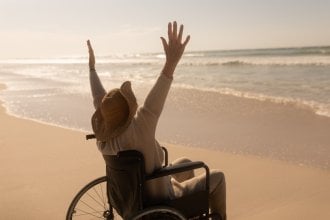 Planning family vacations that include senior loved ones can sometimes be a challenging task – especially if limited mobility is a factor. If a senior is in a wheelchair or requires a walker, cane or other special modes of transportation to get around, it can limit the number of places or attractions everyone can visit together.
With proper planning and foresight, though, your entire group can get away for the ultimate fun and/or relaxation you desire and deserve.
Sylvia Longmire, the writer behind the wheelchair travel blog Spin the Globe, notes that "while it is time-consuming, the best way to reduce anxiety over accessible travel is to do research." So, we've done a bit of that for you with several destinations within the U.S. and outside the country that you might want to consider for future travel itineraries.
Destinations within the United States
Trying to stay stateside this year? Whether you live in California, Florida, Connecticut, Texas or anywhere in between, a variety of destinations await you and your family. These vacation hot spots are friendly for seniors who are wheelchair-bound and offer plenty of things to do. From enjoying the beautiful sun-kissed sands of Daytona Beach to going on an educational tour through Washington, D.C., your entire clan can experience an unforgettable summer.
Daytona Beach, Florida
With a consistent cool breeze and always swaying palm trees, Daytona Beach is the perfect place to relax and enjoy the Sunshine State. In the summertime, the crowds change from college students to relaxed visitors, making it a great destination for seniors with limited mobility. The Ocean Walk Shoppes is the ideal place for the entire family to enjoy a stroll, especially because the area can easily be navigated via scooter or wheelchair. The movie theater at the popular center boasts auditoriums with elevators that allow back-row accessibility and seating for loved ones with mobility issues. That's different from most movie theaters that have spots much closer to the screen.
Washington, D.C.
Experience history as you navigate the nation's capital with ease. From a White House tour to the various museums and monuments along the National Mall, anything and everything will be easily within reach. The city as a whole makes it mobile-friendly to visit. Even the Lincoln Memorial offers elevators so the entire family can see the landmark in all its glory while peering upon the National Mall. A majority of monuments and museums in Washington, D.C. are free, too, so that makes it even more worthwhile.
Las Vegas, Nevada
Longmire, a travel agent who specializes in accessible destinations because she, too, is in a wheelchair, notes that Las Vegas deserves high marks for its accessibility for seniors in wheelchairs or who use scooters. With plenty of things to do for travelers of all ages, the city provides the perfect destination for the entire family. Make a stop at The Neon Museum and see the final resting place for many of Vegas' famous signs. This site is completely ADA compliant. For a truly unique experience, check out the museum at night to see all the signs lit up. From beautifully choreographed shows at the Bellagio to ziplining above Fremont Street, which is completely wheelchair accessible, the Entertainment Capital of the World has plenty to offer.
International Destinations
Traveling internationally can be quite an undertaking. International trips will likely require you to fly, so make sure you and your senior are ready for air travel. Many cruises also are designed to meet and exceed the needs of those in wheelchairs or with limited mobility.
Tenerife, Spain
With large promenade-style walkways, plazas and gardens, Tenerife makes it easy for family members who have limited mobility. The city is an island paradise popular with British travelers and has become quite the hot spot for Americans, too. Tenerife is home to beautiful beaches, cool waters and a variety of museums. The public transit system was the first in Spain to be certified with universal accessibility, meaning all modes of public transportation welcome your senior loved one who is in a wheelchair or scooter.
Dubai, United Arab Emirates
Dubai is considered one of the most wheelchair-accessible cities in the world. Whether you're riding to the top of the world's largest building, the Burj Khalifa, or relaxing at a luxurious and accessible beach resort, the city offers an experience unlike any other. Its public transportation system also is very wheelchair-friendly, making getting around easy.
Riviera Maya, Mexico
If you're looking for an easily accessible paradise, look no further than Riviera Maya. Savor mouthwatering food, white sand beaches and exceptional shopping in this Mexican city. Although accessibility laws in Mexico don't compare to those in America, most all-inclusive resorts have taken it upon themselves to truly be inclusive – even for those with mobility challenges. That means you or your loved ones can navigate the resorts and enjoy your stay under the radiant sun with ease. Several tour companies offer wheelchair-accessible tours around the city, and some resorts even offer beach wheelchairs and scooters.
If you're looking to make the travel process as seamless as possible, Longmire recommends taking a cruise for your family vacation. She finds them to be the easiest way for the young and more mature who have limited mobility to get around. "Cruises are paying attention to passengers with disabilities more than ever before," she notes.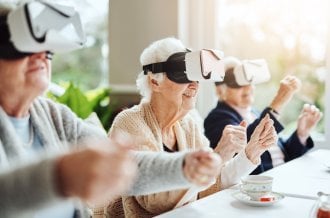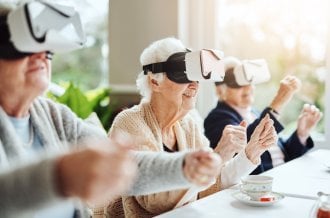 Virtual Reality Allows Seniors to Experience a Whole New World Right at Their Fingertips
Virtual Reality can be an outlet for seniors to socialize and engage in activities they perhaps haven't been able to do in years.
Read blog
Find a community
If you're a senior or caregiver looking for independent living, assisted living or memory care services for you or your loved one, contact us to schedule a tour or request information about a community near you.