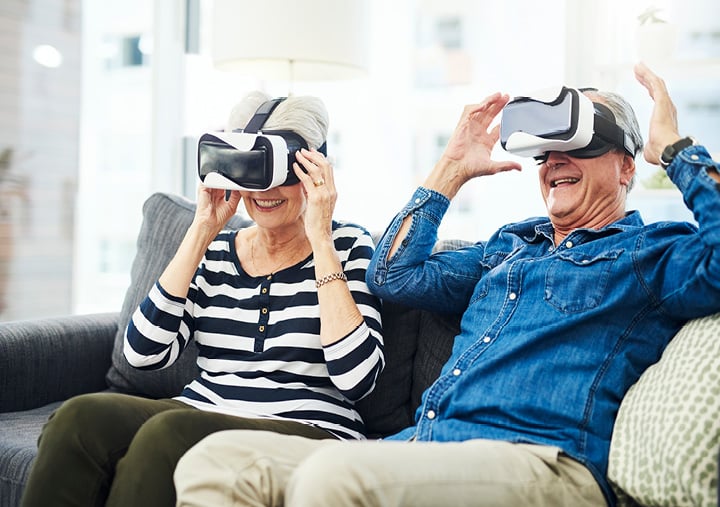 Virtual reality (VR) games can be enjoyed by all age groups, including seniors. In fact, virtual reality has proven to be a valuable technological tool for people living with dementia by improving social interactions and helping them recall old memories.
Virtual reality allows the user to step into a whole new world and experience a different reality. Users can play action-packed or educational games, visit exotic locations or get a fun workout in; the possibilities are endless.
What is the Oculus Quest 2?
Oculus Quest 2 is a virtual reality headset. There are other headsets on the market, including options from Sony and Lenovo. Oculus Quest 2 is available for purchase at retailers like Best Buy, Amazon, Walmart and Target for around $400.
It's important to note that Oculus Quest 2 is also referred to as the Meta Quest 2 because Oculus is a division of Meta (formerly known as Facebook).
Oculus Quest 2 is an ideal VR headset for older adults because of its simple design, setup and functionality. All you need is a smartphone to connect to the Meta app or website. You can also plug the headset into a PC to access more games.
Top Oculus Quest games for seniors
There are around 200 games offered for the Oculus Quest 2. Some are free while others have a fee.
If you're thinking about buying an Oculus Quest 2 for yourself or a loved one (or if you're already the lucky owner of a headset), here are our top five games for older adults.
1. Beat Saber
One of the most popular games on the Oculus Quest 2, Beat Saber challenges players to smash cubes that come toward you according to the beat of the music. The cubes come from all directions, so make sure you're aware of all of your surroundings!
2. Puzzling Places
Love to solve puzzles? This is the game for you. In Puzzling Places, you can complete various 3D puzzles of landscapes and watch them come to life as you build them.
3. Wander
Is there a place in the world you have been longing to see? With Wander, you can! Teleport almost anywhere you want and feel like you are truly there.
4. FitXR
Participate in exercise classes, including boxing, dance and high-intensity interval training (HIIT). There are new classes every week, and you can play with multiple people at the same time.
5. Smash Drums
Similar to Beat Saber, Smash Drums is all about coordination and putting your rhythm skills to the test. Players beat to the rhythm of various rock and roll songs to make you feel like a real drummer.
Find a senior living community near you
From games to outings and social clubs, find a community in your area and see all the engaging activities you can participate in.
If you're looking for structure and community while aging in place, consider independent living, assisted living or memory care services. Contact us to schedule a tour or request more information about a community near you.
Learn more about a community near you
Other blogs you might be interested in reading
Find a community
If you're a senior or caregiver looking for independent living, assisted living or memory care services for you or your loved one, contact us to schedule a tour or request information about a community near you.