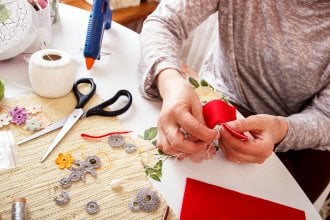 No matter if you're looking to revitalize your apartment or you're just moving into your new Independent Living, Assisted Living or Memory Care community, now is the perfect time to have some fun with decorating. Why now, you ask? April celebrates home décor with National Decorating Month – as if you needed an excuse to put your own stylish touch on your home.
You've been honing your decorative talents over the years, so don't compromise your taste in your space. Whether it's a fine wine, aging beauty or your unfaltering style, the concept of things getting better with time remains true.
With that being said, you can take what you're already working with – collected treasures and mementos, vibrant or muted colors and some of your older furniture – to utilize the tips below. Reuse items, purchase refreshing fabrics and get crafty for a more functional and happy space.
Move Things Around
Changing the layout of a room is free and gives you that excitement that comes with walking into a refreshed living room and/or bedroom. Shifting your furniture around in a strategic manner can make your room feel bigger. This will help create new paths around your apartment that work well, even if you're in a wheelchair.
According to Psychology Today, "as you re-arrange your personal space, you hone your aesthetic and identify what you truly love, want or need. Such specificity brings relief." When you shuffle things around, you can get more in touch with your personal style, which in turn allows you to reassess and approach how you accentuate your space entirely.
When it comes to this approach, you'll want to make sure that you're using caution when moving furniture or heavy items. Ask a family member, friend or community assistant to help you with navigating the larger items. Taking precautionary measures such as wearing a wrist, back or knee brace to prevent any injury is recommended.
Color Is Everything
You don't have to buy expensive art or even paint a wall to make your apartment stand out. Chances are, you probably have an amazing collection that exemplifies many colors on the spectrum. A decorating tip that you can incorporate when you're looking for inexpensive ways to freshen up your home is simply to change your sheets.
Coordinating and showing off your sheets is affordable and effective when you want to add character to your room. It might also help you sleep better. With your already fabulous collection of trinkets and things, a pop of color here and there will accentuate the personal style that you already have budding around your apartment.
And it doesn't stop at your sheets. Find cheap throw pillows (or make some), gather colorful frames to bring old photos to life and swap out your rugs for something new. In fact, a stylish rug can really tie your whole room together. If you're over the selection at your local store, make a rug at home. Surely you have tablecloths that you don't use any longer but don't know what to do with. All you need is a pair of scissors to shape your desired rug from the tablecloth, then purchase a rug pad, some spray adhesive and polyurethane. These small changes are sure to enhance your already stylish home.
Upcycled Is Just As Good As "Brand New"
If you're not ready to part ways with some of your treasured items, then it's time to get a little creative with them. Take your headboard, for example. With the fabric of your choice and some adhesive, you can transform that piece of furniture into something new. You can also use the same method of design for your couch cushions, seat cushions and throw pillows.
If sewing is a hobby of yours, you can easily craft your own décor. Upcycling and refurbishing take a little more work than your average craft, but it's 100% worth it to add your own personal touch to something you already love.
Get Crafty With Your Collection
Whether you're already a fierce collector or you're just now starting to shop at thrift stores, getting crafty with things that seem like they've been neglected can help you up your décor game. Here are a few ideas to get you started on your quest to a stylish home.
Old frames can be used for more than just protecting your pictures. Pick your favorite paint color and lather the frames with it. Once dry, add wires to the back so the middle of the wire is dangling across the width of the frame. Then, clip pictures, earrings or letters to complete your favorite phrases.
Terracotta pots can do a lot more than house your plants. Paint these beauties in whatever way you desire and place them as centerpieces in your living room. When the grandkids are coming to visit, set this project aside so you can do it together.
Woven, colorful baskets make for fantastic wall art. You can make one yourself or head to your local farmers market or home goods store to find colorful baskets that suit your style. Simply hang them on the wall and watch your home transform into a vibrant sanctuary.
Don't toss any of your books away. You can make a table runner out of old book pages. Simply purchase a soft-colored runner and glue pages of the books on top. You can do it with your favorite book ever or wait until the holidays to turn a holiday classic into something your loved ones can marvel at when they come to visit. Once you've done that, get crafty with patterned scissors and stamps to make different patterned edges for your new favorite table runner.
You don't have to go all out for a little apartment makeover. All you need is a blend of your personal style and the right items to make your space uniquely you.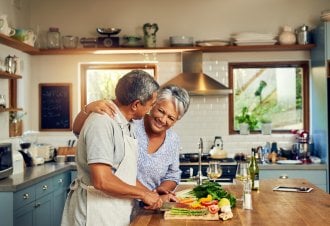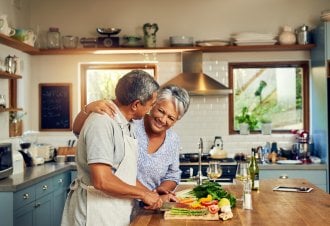 National Slow Cooking Month: Seniors Can Stay Warm and Savor Tasty Dishes With These Recipes
In honor of National Slow Cooking Month, here are some scrumptious slow cooker recipes that will keep seniors nice and toasty while also allowing them to flex their culinary skills in the kitchen.
Read blog
Find a community
If you're a senior or caregiver looking for independent living, assisted living or memory care services for you or your loved one, contact us to schedule a tour or request information about a community near you.