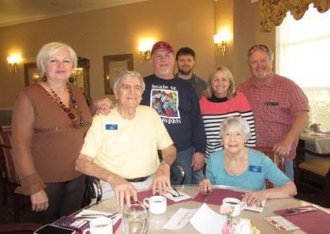 Sonida Senior Living is about family. Our employees are our family. Our residents are our family. Their adult children are our family. It's that sense of family that makes us different and helps us rise to the top in the senior living industry. While none of us may be related by blood, it's our passion, our dedication and our loyalty that have bound us since 1990. Whether you are a past, present or future member of our family, we want you to feel like a part of it right now.
Over the last few months, we have introduced you to a few of the many people who embody our spirit of family. You've met an Executive Director, Maintenance Director, Food Services Director, Activities Director, veteran of World War II and an adult child/daughter of a current resident. Now, meet the Coles.
Meet the Coles, residents at Crescent Point in Cedar Hill, Texas
When seniors enter into a new life at specialized communities across the country, they bring with them countless stories and memories of times past. That's exactly what Ken and Tibbie Cole did, too, when they moved into Crescent Point in Cedar Hill, Texas in January of 2016.
Their life together started 63 years prior to moving into the Independent Living senior community — at a roller rink in Oklahoma City, Oklahoma to be exact. "We met at that roller rink and were married one month and 26 days later," Ken said, reflecting on the start of a journey that would span many cities and states with the love of his life.
Just 12 days after their ceremony in 1953, Ken was drafted into the Army, where he spent time serving in cities including El Paso, Texas; Fort Meade, Maryland; and Norfolk, Virginia. Tibbie followed him when she could find work, but she returned to Oklahoma for the birth of their first son while Ken was in Norfolk. Following his service in the military, he worked at International Harvester and other farm equipment distribution companies, which led the couple to take up residence throughout Oklahoma, California and eventually Texas. Ken claims his favorite place to live is The Lone Star State — due to the changing of the seasons that are missing in the California climate.
In 1997, Ken retired, and the couple spent much of their time investing in their community. "We kept ourselves busy, but my view is that we might as well give time to help others when we can," Ken said.
They spread their wings socially and started getting involved in numerous charitable and political activities around town. They did all kinds of volunteer work in Mabank, such as delivering Meals on Wheels and supporting the Care & Share food pantry through a local Methodist church. Tibbie would meet regularly with the ladies' social groups, and they both sang in a traveling choir, the Cedar Creek Lake's Avanti Singers, which performed at churches, schools and political events. They were also very active in their association and in their church. The couple's passion for their community continued to grow, and when it came time to "fight" for getting sewer lines installed in Cedar Branch Park, the Coles were on the frontlines. Tibbie worked tirelessly on obtaining grants for the sewer lines — just one example of how passionate she was about doing anything she could to love thy neighbor.
When asked the secret to married for more than 60 years, the Coles said that no matter what it takes, they always make sure "not to go to bed mad, not to get up mad and to be kind to one another." Ken topped off that advice with: "We always kiss and make up."
Transitioning to an Independent Living community
The couple's contributions to their community and family just continued to grow, and time marched on. Before they could even realize it, the Coles were in their 80s. A bit slower than life 20 or 30 years ago. A bit frailer than when Ken was in the military or Tibbie was on the roller rink floor. But just as much hopeful that plenty of life's fulfilling moments were ahead.
Ken said he was starting to have trouble going up and down steps in their home due to a muscle disease, and Tibbie was recovering from two knee replacements while also facing fibromyalgia. That's when the couple sat down with their two sons — knowing some tough decisions had to be made. The sons began looking at retirement communities in the area, and the Coles visited five, keeping Crescent Point at the top of their list but feeling overwhelmed by the idea of moving. Then in January of 2016, they visited again and moved in just three weeks later.
Although the Coles had to downsize some of their belongings when moving in, they say the amenities at their new home more than for the lack of material things they possessed in their former home. From not having to cook and clean to the available laundry service — and, of course, no steps to climb — they discovered the many benefits of being a resident and no longer feeling the pressure to take care of the 3,000-square-foot home by the lake which they still own and plan on keeping for their two sons, five grandchildren and three great-grandchildren to enjoy.
Ken and Tibbie are now able to see singing groups and dancers as well as attend holiday events without the hassle of leaving the community. From the kindness of the staff to the convenience of come-and-go dining or tray service straight to their room, Crescent Point ensures that residents always feel right at home. Ken proudly touts the "coffee and cookies" in the lobby as one of his favorite perks. During the holidays or for special celebrations, residents can reserve event space for family gatherings. Over Christmas, the Coles invited their entire family over for a fun-filled gathering and meal in one of the event rooms.
The Cole's community is between where their two sons live, and the family feels a sense of relief knowing that their parents are in a pleasant environment during this new chapter of their lives.
While the decision to move was tough, the Coles agreed that transitioning as a couple can make the process infinitely easier. Ken says he does not regret the choice because it was the necessary step in their life journey. He paused, then said: "The only thing I regret is not moving to Crescent Point two or three years earlier."
As far as his advice to other senior couples who may be in the same situation as Tibbie and him: "I encourage them to take the same step we did and move in as soon as they can."
**This blog post has been edited since it was published.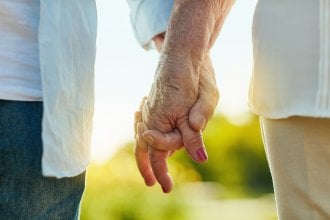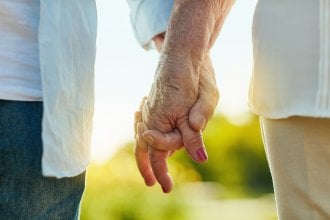 National Date Your Mate Month: How Love and Remarriage Affect Seniors and Their Adult Children
For anyone thinking about recommitting to the dating game, here are a few things to think about.
Read blog
Find a community
If you're a senior or caregiver looking for independent living, assisted living or memory care services for you or your loved one, contact us to schedule a tour or request information about a community near you.