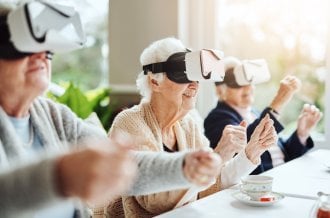 For the last four years, virtual reality (VR) has been a booming industry with tons of untapped potential. While it started as a medium primarily meant for video games, its benefits have far exceeded that original purpose. In fact, hospitals now use VR to train surgeons, architects design buildings with it and even some directors are creating their films with the technology. 
How does this relate to seniors? According to Grace Andruszkiewicz, Director of Marketing & Partnerships for Rendever, VR can be an outlet for seniors to socialize and engage in activities they perhaps haven't been able to do in years due to the aging process. The company she's a part of offers VR programming for senior living communities in more than 30 states with the intent to help independent living, assisted living and memory care residents relive, reconnect and re-inspire. 
Andruszkiewicz referenced a study discussed during a National Institute for Health Care Management panel that noted loneliness can be as damaging to a person's health as smoking 15 cigarettes a day. That's where VR can help. 
How to Get Started in VR 
While no computer is necessary for a VR experience, special headsets such as Oculus Go and Gear VR are required. These can be purchased individually at many big-box stores or electronics retailers. Rendever's package is only available at an enterprise level right now. Oculus Go and Gear VR are two of the most affordable and user-friendly VR headsets on the market. 
Oculus Go is a standalone headset, so seniors simply slide it on and they're immediately ready to get started. No wires, computers or any external devices at all are necessary. 
Gear VR requires a Samsung Galaxy smartphone to function. The phone plugs directly into the front of the Gear VR headset, then functions virtually the same as Oculus Go. 
VR Applications Ideal for Seniors
From traveling around the world to exercising without even realizing it, these VR applications can be used by seniors and their loved ones to bring joy, provide a workout, allow an unplanned visit to another country or simply bond.
Benefits of VR
Andruszkiewicz said VR gives residents a reason to leave their apartments and build relationships with their neighbors. It can also help seniors dealing with Alzheimer's disease or other types of memory loss. She says the team at Rendever has found that Alzheimer's patients may struggle with short-term memory but that long-term memory is typically still very good. So, when seniors put a VR headset on and see a familiar place, their mind opens up and allows them to tell stories of their past, which can then be captured by loved ones and showcased in a book or video. 
While Andruszkiewicz talks about VR, she tells the story of a woman named Mickey, who upon moving into Assisted Living, was one of the most positive and outgoing residents in the community. However, she soon began to experience the effects of dementia, with one of the first symptoms being expressive aphasia. As a result, Mickey lost her ability to communicate and transitioned into memory care. One day, Mickey was given a VR headset and transported into a virtual room filled with golden retriever puppies. Almost immediately, her face lit up and her personality came shining through. Best of all, Andruszkiewicz says, she finally found herself communicating how she felt to her caregivers. 
Rendever checked in with the community six months later and Mickey was still communicating thanks to her continued experiences with VR. 
Rendever's experiences allow seniors to visit many of the world's most famous attractions. Always wanted to see the Eiffel Tower? Take a group VR field trip to Paris and gaze upon its world-renowned beauty. VR can also get residents to exercise without even realizing they're doing it. Rendever's Balloon Popper is an app developed for this purpose. Seniors attempt to poke virtual balloons with their noses to get the highest score. 
For family events, Rendever allows adult children and grandchildren to upload their own 360° photos and videos so a senior can live or relive a wedding, graduation, reunion or any big gathering of cousins, kids, grandkids, aunts, uncles, etc. 
Learn more about a community near you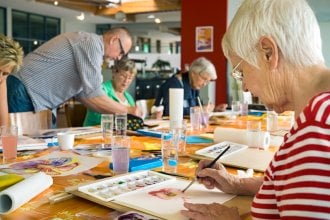 Express Yourself: Art Therapy Becoming Important Part of Communication, Connection for Seniors
Art therapy plays an important role in how seniors communicate and connect with the world. Here are some success stories to inspire you.
Find a community
If you're a senior or caregiver looking for independent living, assisted living or memory care services for you or your loved one, contact us to schedule a tour or request information about a community near you.