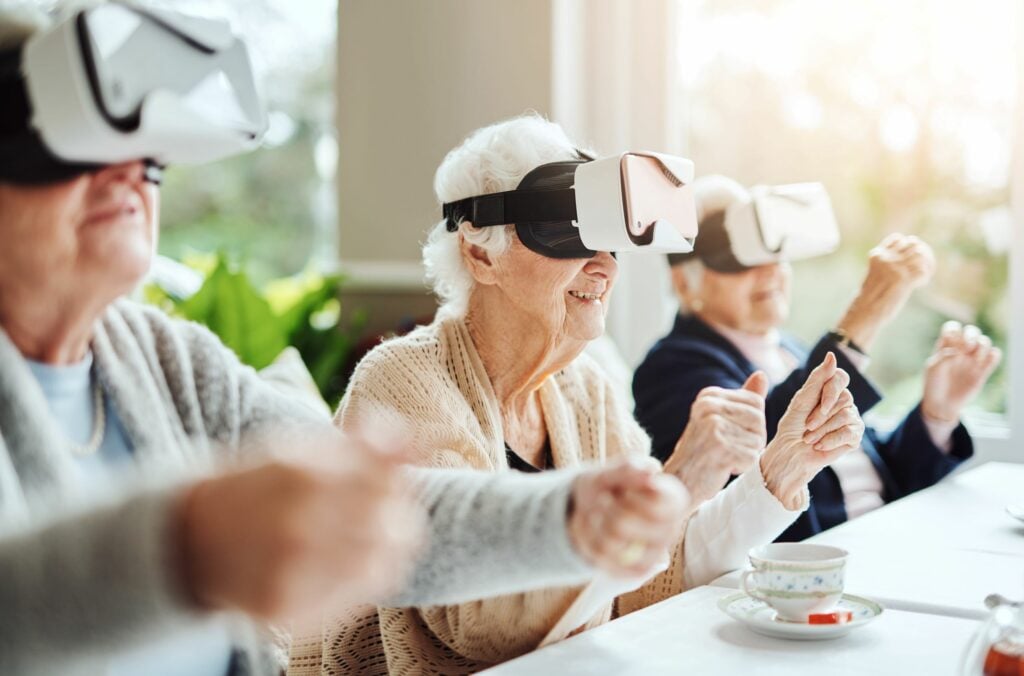 Imagine being able to visit places around the world – without the expense or hardship of travel. Virtual reality (VR) makes that possible. With VR, your imagination is the only limit to what you can experience, and you don't even have to leave the comfort of your home. While virtual reality technology started as a medium primarily for gaming, its benefits have far exceeded that. And the potential is limitless. For example, hospitals now use VR to train surgeons, architects use it to design buildings and some directors are even creating films with the technology.
Virtual reality is also creating amazing new opportunities for seniors. According to Rendever, VR can be an outlet for seniors to socialize and engage in activities hindered by the aging process. Rendever is a service dedicated solely to improving the lives of senior citizens through the use of virtual reality.
The Centers for Disease Control and Prevention links isolation and loneliness with serious health conditions. According to one study, loneliness can be as damaging to a person's health as smoking 15 cigarettes a day. Social isolation can also contribute to:
A 50 percent increase in dementia
A 29 percent increase in heart attacks
A 32 percent increase in the risk of stroke
VR has proven to be an effective tool to help address loneliness and improve mental and physical well-being in older adults.
How to get started in VR
Special headsets are needed to enter the fully immersive environment that virtual reality offers.
Because VR headsets have been on the market since the 1990s, it's not surprising there are plenty of options to choose from. You can find headsets online or at many big-box stores or electronics retailers. Meta Quest and Sony PlayStation are two popular and well-ranked VR headset brands. Meta was formerly known as Oculus.   
Meta Quest offers standalone headsets, so no wires, computers or other external devices are needed. You simply slide on the headsets, and you're immediately ready to get started.
PlayStation VR headsets require a PlayStation console to function, such as a PlayStation 4 or PlayStation 5. The console has a cord that connects to the VR headset, allowing it to take you into your chosen virtual environment.
Google Cardboard is another VR headset option, one that works with your smartphone. It's a good option for seniors to test out VR at an ultra-low cost before investing in a higher-end headset. With Google Cardboard, you receive a sheet of cardboard and lenses with instructions on how to fold them together into a headset. After a few minutes of assembly, you are ready to slide in your smartphone and immerse yourself in a virtual world. 
VR headsets are just one option for seniors to enjoy the entertainment and benefits of technology. They are an option that not only provides entertainment but can also help foster connection and combat loneliness and isolation.
Recommended VR applications for older adults
From traveling around the world to exercising without even realizing it, there are VR applications seniors will absolutely love. Here are some favorites you may want to consider. These are all from Meta, formerly known as Oculus, but it gives you an idea of the possibilities VR offers seniors.
Zen Zone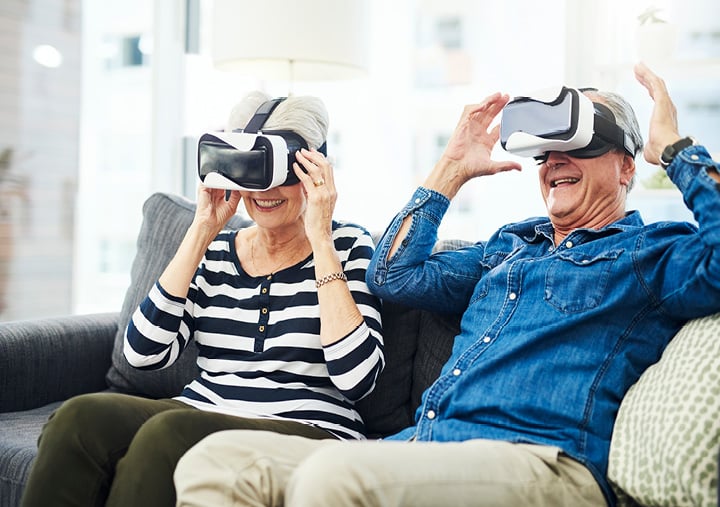 Zen Zone offers relaxation experiences, including several that guide you through meditation and relaxation techniques. You can also enjoy a Zen garden, where you can rake the sand and appreciate the peace and calm of your surroundings.
If you sometimes imagine escaping to a place where stress and worry can't follow, you understand the appeal of Zen Zone. Applications like this can help seniors combat restlessness and find enjoyable ways to pass their time.
Appility
Appility is a virtual reality application that allows people to experience some aspects of what it is like living with a disability. For family members of someone who is disabled, it can be an eye-opening experience. Think of the possibilities for increased understanding and connection, and the meaningful conversations this could inspire for seniors and their families.
Alcove
Alcove is a social virtual reality experience designed with families in mind. With your headsets waiting, you are always ready to host or attend a gathering with friends and family. Will it be at the beach? Or perhaps in the snowy mountains? You can even meet up to take city tours together as you travel the world, one virtual visit at a time.
This virtual app allows seniors to connect, chat, play games and create new memories with friends and family. This is a great tool to fight loneliness and isolation in older age. Just make sure all friends and family members have VR headsets so they can join in the fun and games.
Wander
Wander is an application that makes teleportation a reality, if not for your whole body, at least for your mind. You no longer have to feel trapped in one place, trying to suppress that unsatisfied feeling of wanderlust. Particularly for seniors with limited mobility, it can be challenging to travel or to take a family vacation. Not to mention the expense.
Now, you can travel the world and see the sights you've spent your life dreaming about. Why not visit Machu Picchu, the Great Wall of China and the Taj Mahal? You can also jump through points of time and witness how some places have changed over the course of history.
National Geographic
National Geographic VR is another travel app that can help you not only see, but also experience the world. It's developed by National Geographic, which has a talent for transporting you to unique and interesting places with its stunning images. The National Geographic app allows you to become fully immersed in their 360° videos. It puts you right in the middle of the action, whether swimming with sharks, observing a family of gorillas or learning about other cultures. For seniors who are longing for adventure and yearning for knowledge, this is a virtual reality experience worth exploring.
Benefits of VR for seniors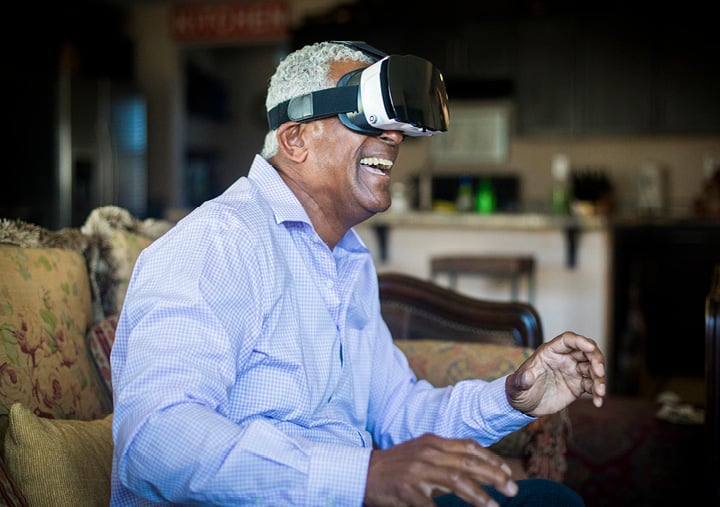 For seniors, virtual reality can open doors that might otherwise have remained shut. It grants access to travel destinations that might otherwise be too difficult or too expensive to get to. It can bring people together, in a virtual space, who might live in different states or even different countries. It can recreate the memory of a trip long ago, or a treasured place as it existed at the time of someone's childhood.
Virtual reality can be not only fun, but also beneficial in combating loneliness and isolation. There are encouraging studies that show virtual reality can have a positive impact for people who suffer from dementia. In fact, VR is gaining traction as a therapy to improve the quality of life and well-being of people with dementia.
Yet, as with all technology, VR technology has its limitations. Virtual reality relies mostly on hearing and vision to create an experience, the two senses that are usually the most affected with age. It's also hard to create an experience that feels real without drawing fully on all of your senses. After all, your senses of touch, taste and smell also help connect you with your surroundings. Virtual reality technology continues to grow and evolve, though, and there's no telling what the future might hold.
How senior living can help you make connections
Even with all of the benefits of virtual reality, we all know it can't replace real-life moments of in-person connection. If you are feeling isolated or lonely, and VR doesn't seem like enough to help, you may want to consider senior living. Senior living communities are designed to meet the needs of seniors, including the need for meaningful social connections. From games to outings to social clubs, senior living communities make it easy to form connections with neighbors and friends.
Contact us to schedule a tour of a Sonida Senior Living community, or to request more information about a community near you. Don't wait to start living your best life – join Sonida Senior Living and find your joy here!
Learn more about a community near you
Other blogs you might be interested in reading
Find a community
If you're a senior or caregiver looking for independent living, assisted living or memory care services for you or your loved one, contact us to schedule a tour or request information about a community near you.