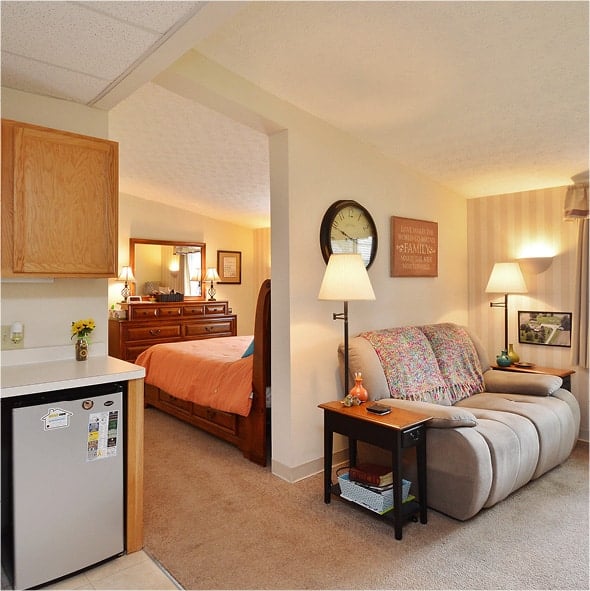 Are you looking to downsize or do you know an older adult who can no longer manage their own home? Let us help you learn the facts about senior living apartments in comparison to standard apartments for the general population.
Senior living apartments (which sometimes include townhouses or condominiums) are equipped especially for older adults. They are usually built in a community-like setting where residents have access to amenities that they would not normally have access to at a standard apartment complex, such as a cafeteria, activity center, chapel, library and more.
Why should you move to a senior living community?
As we age, there comes a point in our lives where we may not be able to physically manage a home on our own. This can be due to physical limitations or we simply just need to downsize because of the loss of a significant other. In any case, senior living apartments are built and designed for an older adult in mind.
For example, many apartments offer kitchen cabinetry built for those in a wheelchair, making it easier to reach for dishes or food. Security handrails in the bathroom and non-slip floors are also a couple of examples of the finishings you will find in a senior living apartment. Finally, for peace of mind, most senior apartments have built in call systems so that you can easily call for assistance, should you need it.
Five things you didn't know about senior living apartments
1. All utilities may be included
In order to help with fluctuating bills, especially during the winter months and to alleviate residents from having to remember to pay utility bills every month, many senior living communities offer to include utilities as part of the monthly rent. Utilities that are usually included are water, gas and electric. Residents will, in most cases, still have to pay for their own cable and phone hook-ups.
2. You'll have access to great amenities
Community activities to keep residents engaged, such as group games, happy hours and cooking clubs, are all examples of some of the fabulous amenities you can count on while living in a senior living community.
Outside of group activities, many senior living communities include amenities such as free transportation to medical appointments or to local shopping districts. Visiting physical therapists and podiatrists regularly visit residents, providing essential services without having to make a trip. Are you looking to stay fit? Most senior living communities offer a regularly scheduled exercise class during the week. Along with structured exercise classes, enjoy the fresh air with a stroll around the community grounds which usually include paved paths, beautiful landscaping and picturesque views ideal for bird watching.
3. You may have your own washer/dryer
Depending on the level of independence the senior living apartment provides its residents, a washer and dryer may be included in the apartment. This is a great option for those who still desire their independence. Sonida Senior Living offers many communities with washers and dryers including the Waterford at Levis Commons and The Wellington at Conroe.
4. You may have a full kitchen or kitchenette where you can cook your own meals
If you are still looking to make a home-cooked meal every once in a while, keep perishables in a refrigerator or freezer, or warm up leftover food in the microwave, many senior living communities offer residents kitchens or kitchenettes. This also allows many residents to keep their independence as long as possible – which in turn helps keep residents active in their day-to-day life.
5. You may even have outdoor space
Believe it or not, many senior apartments offer the luxury of private balconies or patios. Enjoy the fresh air during a beautiful summer day or take in the sunrise or sunset all from the comfort of your own apartment. Most, if not all, senior living communities include landscaped courtyards, offering ample seating and tables to be used while residents enjoy spending time with visitors or just to simply enjoy a fresh cup of coffee with neighbors. Other communities may even offer paved walking paths which surround the community ground ideal for those who enjoy either a brisk or leisurely walk during the day.
What is the difference between independent living and senior apartments?
When you make the move to a senior apartment, you'll need to select the level of care that is best for you. Senior living communities are made up of apartments where residents have different service options like independent living, assisted living and memory care.
Independent living is great for seniors who are able to manage day-to-day tasks like bathing, getting dressed and moving around on their own. Seniors who live in senior apartments at independent living communities have access to all of the benefits of a senior living community that make life easier like housekeeping and laundry service and meals prepared by a chef each day.
Independent living residents also get to take advantage of community amenities and social activities. Amenities might include things like swimming pools, theatre rooms, game rooms and more. Independent living residents who rent an apartment in a senior living community have access to all of the communities social activities like book clubs, exercise classes, arts and crafts activities, planned happy hours and more.
How many bedrooms and bathrooms do senior apartments have?
Every senior living community has different floorpans. One-bedroom, two-bedroom and sometimes, even three-bedroom layouts are available. Some communities offer traditional-style apartments with multiple units inside a building. Other communities offer townhomes or even standalone cottages.
What are standard features in senior living apartments?
The goal of senior living communities is to provide elderly adults with the services and amenities they need to live fulfilling, comfortable lives.
In most senior apartments, you can expect to find:
Individual climate control
Call buttons and emergency response system
Window treatments for privacy
Locked mailboxes
The ability to decorate the apartment and make it home with your own furniture and belongings
Amenities available in senior apartment communities
One of the biggest benefits of moving to a senior apartment are the amenities available at the retirement community! Standard amenities may include:
Three delicious meals served daily in a dining room
Weekly housekeeping/linen service
On-site 24-hour home health care service for seniors who need extra support
On-site therapy service
Exercise studio with daily classes for seniors of all activity levels
On-site beauty salon
On-site resident store with household items, snacks and toiletries
Landscaped outdoor areas
Computer area and well-stocked library
Daily newspaper delivery
Utilities included in monthly rent
Scheduled courtesy transportation
How much do senior apartments cost?
The cost of renting an apartment in a senior living community can cost anywhere between $2,000-$7,000 a month. Many factors contribute to the overall price you pay, including the type of community (independent living, assisted living or memory care), the level of care you require, the type of apartment you select (studio, one-bedroom, two-bedroom, etc.) and where the community is located.
We offer a continuum of care at our communities, which means residents can tailor their accommodations and care only paying for what they need. This makes senior living at our communities more affordable and flexible so it's easier for our residents to age in place even as their needs change. Our team can help identify ways for you to offset the cost of senior living like veterans benefits, tax deductions and more.
Schedule a tour
Are you interested in learning more about our senior living apartments? Check out local Sonida Senior Living communities in your area to see which amenities may fit your lifestyle. Or, you can contact us to schedule a tour or request more information.
Before moving to a senior living apartment, view our packing list to make sure you bring all the right items.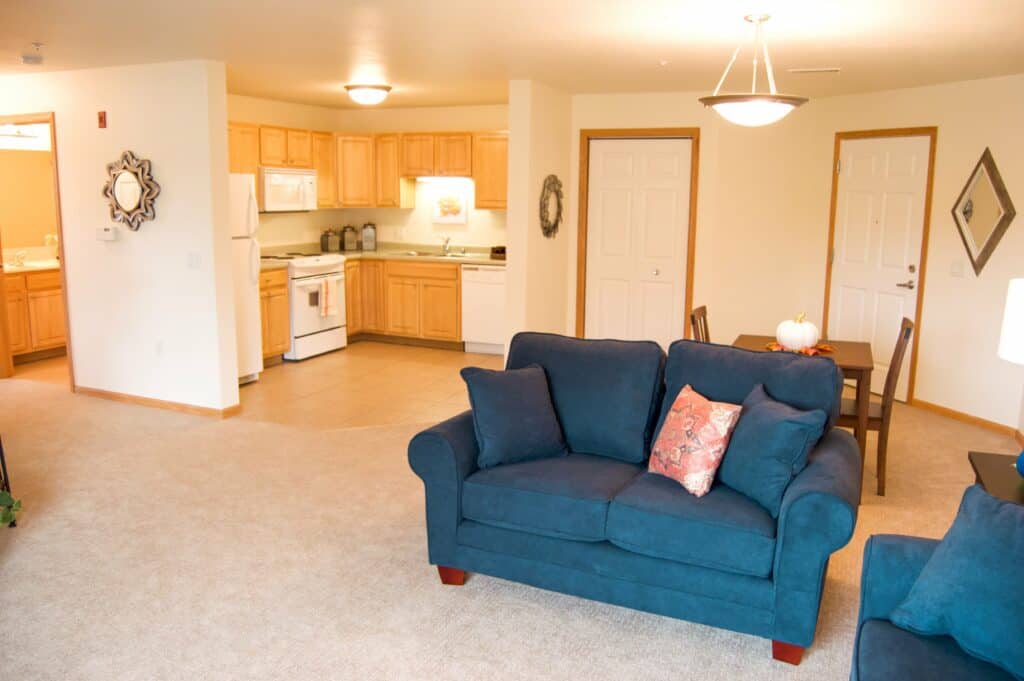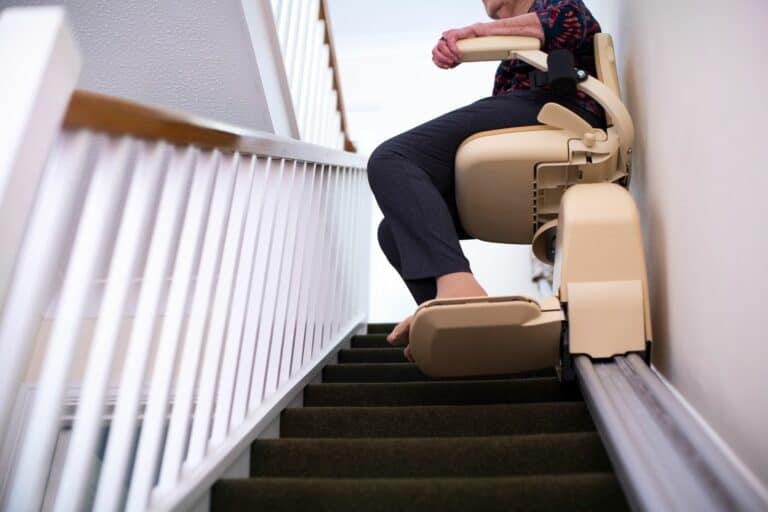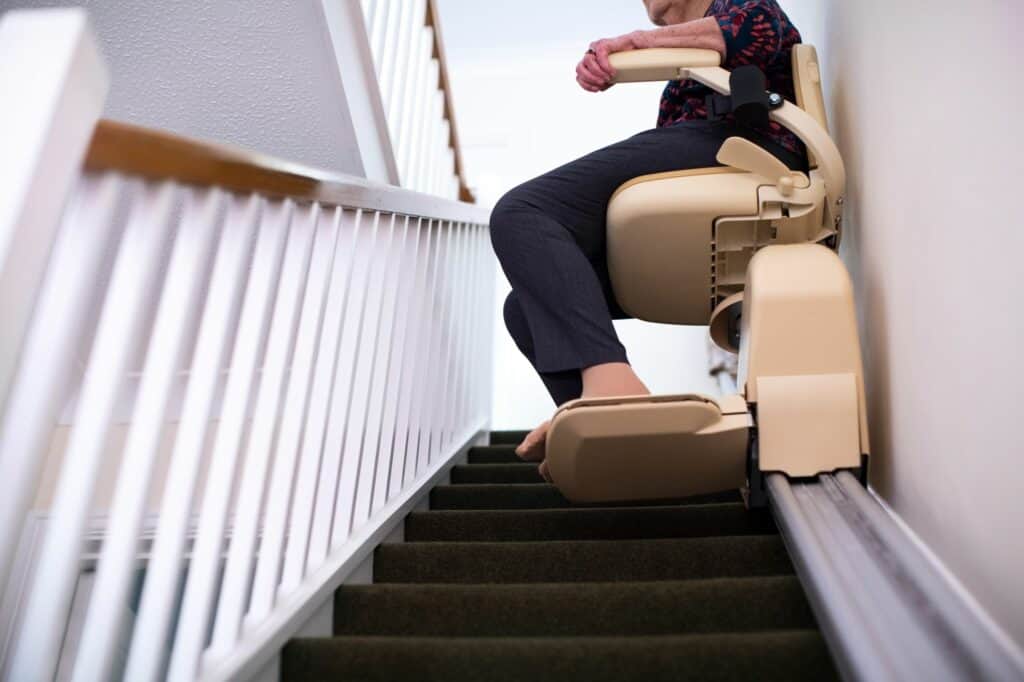 Aging in Place: Home Modification Tips to Help Offer Independence
To help create a safe and nurturing home for your loved one as they age in place, we have put together a list of home modifications that should be considered.
Read blog
Find a community
If you're a senior or caregiver looking for independent living, assisted living or memory care services for you or your loved one, contact us to schedule a tour or request information about a community near you.