As we age, our bodies start to break down—our eyes don't see as well as they used to, our hips and knees aren't as flexible and our minds aren't as quick as they once were. And with age comes the unfortunate reality that one in four Americans over the age of 65 falls each year. According to the National Council on Aging, falls in the senior population are the leading cause of fatal and non-fatal injuries.
However, through minor adjustments to the way seniors live and get around, the number of falls can be greatly reduced. According to the National Institute on Aging, when seniors take care of their overall health, it lowers their chances of falling.
Common reasons for falls in seniors
Impaired vision or hearing
As mentioned earlier, eyesight deteriorates as we age, along with age-related eye diseases. This can make it difficult to see obstacles or hazards underfoot. Wearing eyeglasses while moving around is always important.
Balance can also be impacted by impaired hearing. Seniors may miss important cues that help avoid falls, such as the noise of a small child or animal.
Medications
Per the Merck Manual, 40 percent of older adults take at least five drugs per week. Mixing multiple medications can lead to medication interactions with side effects, including falling. Over-the-counter medications and supplements can have side effects as well. Common side effects of sedatives, anti-depressants, anti-psychotics and some cardiovascular medications include drowsiness, dizziness and low blood pressure.
Chronic diseases
Poor physical health and diseases such as Parkinson's, Alzheimer's and arthritis are known to cause poor grip strength, weakness in extremities, balance disorders and cognitive impairment. These diseases can affect the ability of a person to respond and recover from tripping or falling.
Surgical procedures
Hip and knee replacements are a common surgical procedure for older adults. Rehabilitation after surgery can leave seniors with discomfort and less mobility than before surgery. While this is a temporary setback, it's important to remember that the person is healing and may not be steady on his or her feet.
Environmental hazards
Considering the majority of falls in the senior population occur in homes, it's no surprise that little things like clutter, poor lighting, loose carpets and slick floors are a main cause.
Here are some tips to avoid falling and broken bones:
Get quality sleep every night.
Limit alcoholic beverages.
Stand up slowly.
Get vision and hearing regularly tested.
Stay physically active.
Wear non-skid, rubber-soled shoes that fully support the feet.
Schedule a tour
If you're concerned an unsupervised loved one may be at risk for falling at home and would like to learn more about assisted living or memory care services, contact us to schedule a tour or request more information about a community near you.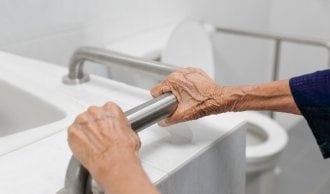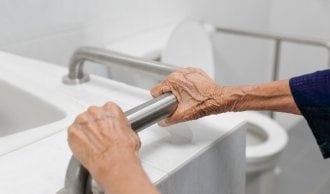 National Bath Safety Month: Protect Yourself from Falls in the Bathroom
January is National Bath Safety Month, a time when seniors can reassess what precautionary measures they take to prevent slips, falls and other accidents in the bathroom.
Read blog
Find a community
If you're a senior or caregiver looking for independent living, assisted living or memory care services for you or your loved one, contact us to schedule a tour or request information about a community near you.