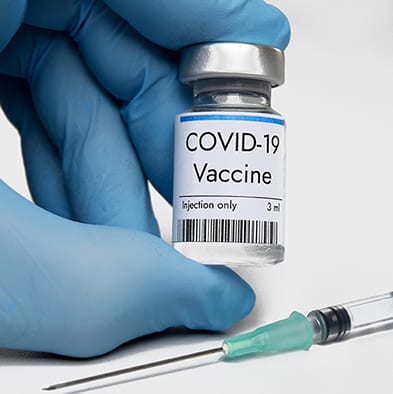 With a vaccine rolling out in the United States, Sonida Senior Living is preparing for clinic dates to begin administering the vaccine to all residents and staff members. We are continuing our partnership with CVS Health to provide trained personnel and supplies for these on-site clinics.
A brand-new vaccine may be a scary thought, but we at Sonida Senior Living believe it is the best way to protect yourself and others from COVID-19. Here are some reasons why you should consider receiving the COVID-19 vaccine in the coming months.
Three reasons to get the COVID-19 vaccine
It's safe
Vaccines go through rigorous testing, more than any other drug, before being approved by the U.S. Food and Drug Administration (FDA). This is no different from the COVID-19 vaccine. Extensive testing in clinical trials was conducted to prove its safety. According to the Centers for Disease Control and Prevention (CDC):
"First, small groups of people receive the trial vaccine. Next, the vaccine is given to people with particular characteristics (like age and physical health). Then, the vaccine is given to tens of thousands of people and tested for effectiveness and safety. After that, the data is reviewed by the FDA which approves the vaccine, and by an independent board, the CDC's Advisory Committee on Immunization Practices (ACIP) which will make its recommendations for use. These bodies are the final safeguards for the public ensuring any vaccine is both safe and effective."
To read more COVID-19 vaccine facts, click here.
You will not get sick
You will not get sick or get COVID-19 by receiving the vaccine.
PBS News Hour states, "The vaccine does not actually infect a person, but if a vaccinated person is exposed to an active virus, their body knows what to do. Since the new virus is roughly a year old and we are just starting to see how people react to the vaccines designed to fight it, how long a person is protected is unclear but researchers are studying those factors."
While there may be side effects to the vaccine, such as pain, swelling, and headaches, you will only experience this for 1 to 1.5 days.
It's over 90% effective
Most of the COVID-19 vaccines currently available in the United States need two shots to be effective. After the first shot, you will be 40-70% protected, but after the second dose, you will be 94% or higher protected. This goes to show that the vaccine is one of the best ways you can stop the spread of COVID-19 and keep yourself safe. In addition to the vaccine, wearing masks and social distancing will help to slow the spread.
**This blog post was published on December 15, 2020.
Why the Flu Shot Is More Important Than Ever This Year
The COVID-19 pandemic has wreaked havoc on the United States population, but especially on some of our most vulnerable—our seniors.
Read blog
Find a community
If you're a senior or caregiver looking for independent living, assisted living or memory care services for you or your loved one, contact us to schedule a tour or request information about a community near you.