Location: West Bend, Wisconsin
Services: Assisted living, memory care
Fun fact: Wildlife, including deer, woodchucks and snapping turtles, frequently visit the community grounds
What makes our Wisconsin community unique?
Located along the Milwaukee River, The Waterford at West Bend offers seniors a cozy and homelike atmosphere.
The Waterford at West Bend is an intimate, one-story community. Situated just off the main road in West Bend, residents have quick access to all the downtown area has to offer, including local shops and restaurants. The Waterford is also the only community-based residential facility (CBRF) in the area that allows small pets, so seniors will not have to worry about saying goodbye to their furry friends.
Senior care services and amenities offered
The Waterford at West Bend offers assisted living and Magnolia Trails memory care. In addition to 24-hour staffing, The Waterford boasts a wellness program through Aegis Therapies, more than six outdoor patios, a walking path, and raised garden beds to make gardening easier.
Other services residents can utilize include:
Meals served daily, including special nutritional accommodations and a salad bar
Visiting physicians and podiatry
Private studio and one-bedroom apartments
Visiting church services and Bible study
On-site beauty salon
Newspaper delivery
Medication reminders
Housekeeping and linen services
Library outreach
Light pet care
Learn more about a community near you
Activities to keep seniors entertained
Residents get to choose the activities the community offers to ensure they are interested in the programming. Since activities are picked by residents, for residents, they are often well-attended and provide a great opportunity to socialize.
According to Amber Mulhern, executive director, "morning stretch is a popular activity each weekday morning. We use a mixture of therapy bands, light weights and muscle coordination. Working your core, arms and legs on a regular basis keeps muscles from going weak. Our exercise program suits everyone, no matter their skill or ability level. We make modifications to allow all residents to participate."
Residents also enjoy relaxing outside and participating in ice cream socials and happy hour. "We emphasize large group socialization that is inviting for everyone," says Mulhern. "Our residents look forward to weekly rituals, like ice cream on Wednesdays and snacks and beverages on Friday afternoons."
Other regular activities include:
Walking club
Arts & crafts
Card game group
Yoga classes
Off-site activities like shopping and field trips
How do I find the best senior living community near me in West Bend?
Our team of trusted advisors can help you determine what level of care would be best for you or a loved one. First, we will meet with you to learn more about your unique needs. If we offer the type of care you need, we can then make a recommendation about the appropriate level of care and help set up tours as well.
If you're a senior or caregiver looking for assisted living or memory care services for your loved one, consider touring The Waterford at West Bend. Schedule a tour here.
About our Community Spotlight senior living blog series
All of our Sonida Senior Living communities across the country have one goal in mind – providing quality, affordable senior housing and outstanding services while improving the quality of life of the seniors we serve. Our Community Spotlight blog series is here to help you get to know our communities better!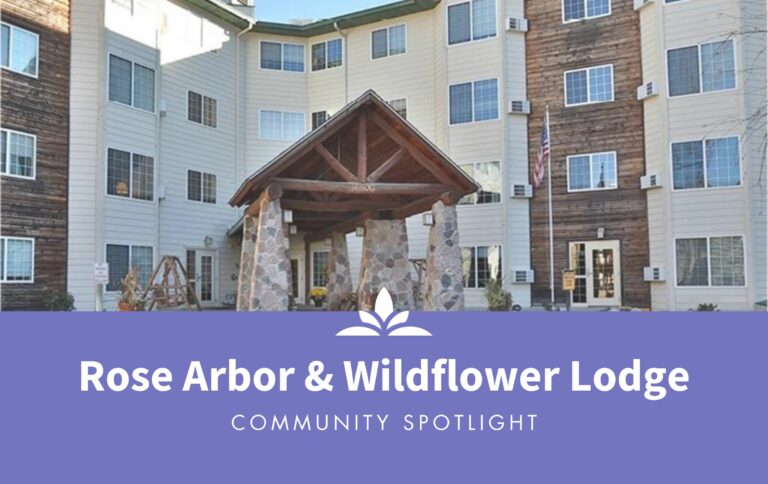 Senior Living Community Spotlight: Rose Arbor & Wildflower Lodge
Rose Arbor & Wildflower Lodge is located in Maple Grove, Minnesota, a city that brings together the best of both worlds: a scenic, nature-oriented atmosphere with the convenience of the metropolitan Twin Cities nearby.
Read blog
Find a community
If you're a senior or caregiver looking for independent living, assisted living or memory care services for you or your loved one, contact us to schedule a tour or request information about a community near you.